Calendar Creations: Part One
Submitted by Gingerbug on September 3, 2007 - 18:51
Creating a calendar can be a rewarding experience with a bit of planning. Time is always a factor in our busy lives but large projects become more manageable when broken down into smaller doable tasks. For August the goal of the Calendar Creations group was to complete layouts for the months of January, February, March, and April. For January I selected a simple layout in shades of blue and white. This is the January paper available from www.orientaltrading.com in their monthly paper bundle. Add a white lacey punched border, shades of blue paper strips, silver-white snowflake stickers, and a snowflake button to create a simple yet eye catching layout.
Click the read more link below to read more about Calendar Creations.
Add embellishments to the calendar grid, along with jotting down birthdays and other important family events and you have created a useful gift that's a joy to use all year long.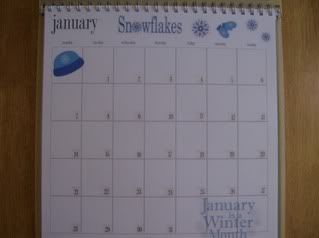 February's layout also features paper from www.orientaltrading.com but I decided to mix it up a bit and cut apart the paper to create block letters that spell February, as well as, using some of the oriental trading monthly stickers.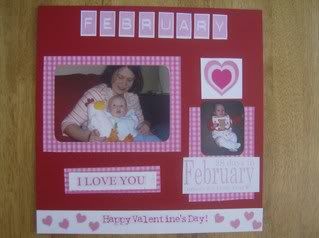 Each of the monthly layouts features paper from the same paper bundle but used in a slightly different manner. Along with the sticker set it would be possible to create several calendars just from this colorful set and some extra card stock. Since the paper features the name of the month in different fonts and styles, the possiblities are endless.
Here's March....
And April...
Calendars that become keepsakes are definately a "must have" on your gift giving list. This project will make you yearn to create one for yourself as well. The key to the whole process is preplanning the project, setting small goals, and keeping the layouts simple. Join us in the forum Virtual Crop to continue with September's Calendar Creations...featuring the months of May, June, July, and August.