Altering Paint Cans for Gift Giving
Submitted by Gingerbug on August 16, 2007 - 19:09
Paper crafts have evolved over the last few years and scrapbooking is not just about making pages any more. There are a variety of techniques that lend themselves to other canvases. One of the most popular of these is altering containers to use for a variety of purposes. Empty paint cans are available at local home improvement stores and also in most craft stores. Here's a website that has a variety of cans available: http://www.cansareus.com
Local scrapbook stores frequently host classes on different projects and techniques. Donna O'Neal owner of Scrapbook Nook in Warrenton, Missouri recently hosted just such a class. During it, participants were able to make an altered paint can, using any style of paper available in the store. Completed with ribbon and beads the cans make awesome containers for gifts.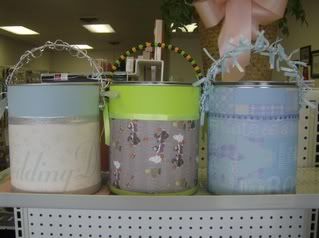 To read more about creating altered paint cans please click the READ MORE link below.
Altered cans can be used for wedding gifts or they're a great way to hold cards at the reception. Baby gifts look adorable tucked in a blue or pink gift can and Halloween treats never tasted as sweet as when they are handed out in a one of a kind pail. Other possible uses:
1. Spa Buckets: Bath salts, shower gel, manicure set.
2. Writing Pail: Stationery, notepads, and pens.
3. Birthday in a Can: Complete with candles, balloons, card, gift, and party hat!
4. Movie Bucket: Video or video gift card, microwave popcorn, drink mix.
5. Over the Hill Bucket: Assorted over the hill products.
The supply list is simple and the things you need may already be in your craft closet. You will need a new paint can, paper (preferably two patterns and/or colors), glue dots, ribbon, and beads. You can use flowers, tags, and other embellishments depending on your taste.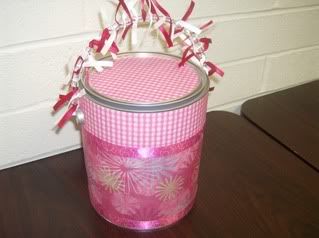 Remove the handle from your can first. Then cut a 12 x 12 piece of paper down the center so you end up with two 6 x12 inch strips. Apply glue dots and attach one of the pieces to the bottom of the can smoothing it out as you circle the can to avoid wrinkles. The second strip can be cut so that you end up with about an inch overlap. Apply glue dots and attach. You might need a touch of liquid adhesive on the seams.You can make a template for the top strips and use a one inch hole punch to get the holes in the right spots for the handles. The top strips are approximately 2 1/4 inches wide. After attaching the top pieces embellish with ribbon (that's a nice way to cover the overlap between the two). Now decorate your handle with ribbon and/or beads that compliment your color scheme. Cut a circle for the lid and reattach the handle. The end product is a cute one of a kind gift container or storage pail.